When it comes to marketing a business online, most people immediately flock to either Facebook, Twitter, or LinkedIn to build a following and gain customers.  What about the newest social network on the block, Pinterest?  Pinterest is a virtual pin board where you are able to share content that you find on other websites via a "pin board".  Just like retweeting on Twitter, when other people see and like something that you've "pinned" they are able to re-pin it on their own boards.  What does that mean for your business?  Exposure!!!  80% of all pins are re-pins, unlike Twitter where only 5% or less tweets are retweeted.  Many people have decided not to use Pinterest because it is still fairly new and most are unaware of how it works.  However, now is actually the BEST time to market your business via Pinterest and will make any business owner a leader in their industry.  Pinterest is already attracting more website traffic than Google, YouTube, and LinkedIn combined and currently has 10 MILLION unique visitors which is faster than any other independent website in history.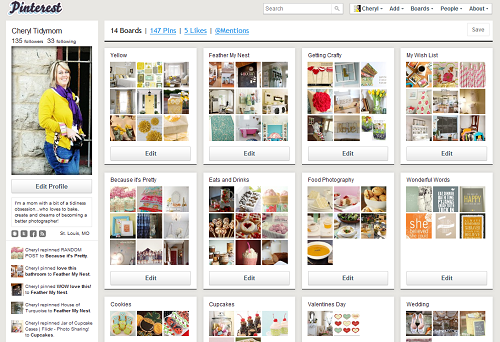 So how do you go about using Pinterest for your business?  First, you set up your account (duh) and make sure your profile is filled out completely and entirely to make sure that anyone who sees your page will have an idea of what type of business that you are in.  Next, you start pinning and make your first board.  You can have more than one pin board and give each one a particular subject, for example, if you sell accessories, one pin board can be for handbags and the other for jewelry.  After that, you want to create powerful pins that will attract other Pinterest users to your business.  You can pin quotes, pictures, infographics, "how to" images, videos, and so on.  You are also able to include captions under each pin and include links and keywords pertaining to your business.
If you already have a website, your best bet would be to include a Pinterest follow button so that your customers, who may also be Pinterest users, will be more up-to-date with your business and your products and services.  Your Pinterest account can also be linked to your Facebook page so that anytime you have a new "pin" your Facebook friends will know about it immediately.
I've had a Pinterest account myself for a while now, but just like everyone else, I was confused about the website and how to use it.  After attending a webinar from the Entrepreneuress Academy called the "Power of Pinning", I'm excited about marketing my business on Pinterest and will put my account to use right away!  You should too!
If you're already using Pinterest for your business, how is it working for you?